List of 10 Celebrities with Cellulite
In some cases, celebrity photo-shoots involve a little bit of Photoshop to hide some imperfections. Here are 10 celebrities with cellulite;
Cindy Crawford
The supermodel admitted to using Botox more than 10 years ago. She confessed to having done a whole skin care line with a London doctor. In her own words she stated that it was hard to age gracefully in the industry. Recent pictures of her in a flowery bikini clearly show the extra inches. She is however positive and defiant and even laughs about having cellulite.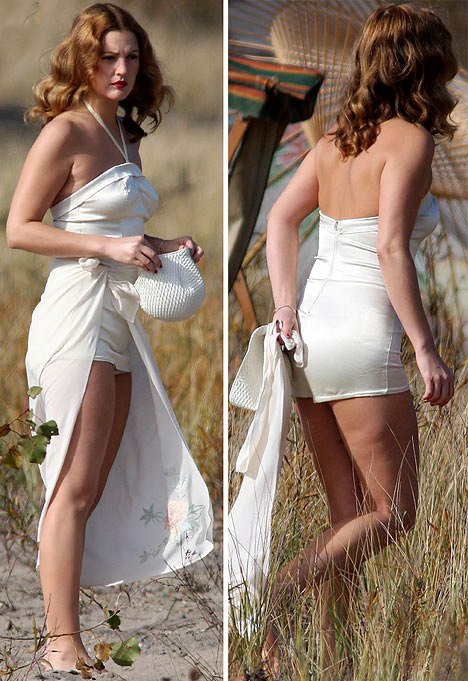 Drew Barrymore
Drew Barrymore is an amazing actress, no doubt about it. In some recent photos, she is wearing white short jumpsuit that shows thighs with cellulite. A little cellulite is to be expected especially for a new mom. In another recent photo she is seen in a bikini in a beach in Mexico also showing some extra inches.
Tara Reid
Tara Reid is already super skinny but some photos of her in a bikini show her back and thighs with a little cellulite. She is also known to have fallen victim to a failed liposuction. She however did not mind people seeing her scars as she sunbathed at the beach. Her surgically altered body was very evident, especially her behind.
Eva Longoria
Eva Longoria is an actress who invoked awe in photos due to her small and petite frame. Many people often wondered what her secret was. But in the past year it seems that she has put on quite some weight. Pictures of her now in an orange bikini, a year after her wedding show an evidently curvier Eva, with cellulite on her thighs and butt.
Halle Berry
Halle Berry has always been named as one of the most beautiful black women. She always seems to have good looking body in all photos. However, in some recent photos of her at the beach playing with her child, cellulite on her thighs and behind can be clearly seen. There were some unconfirmed rumors that she uses coffee beans to get rid of cellulite.
Hillary Swank
This two time Academy winner is also known to be among the fittest celebrities. She is also an actress who takes exercise seriously. Pictures of her jogging show cellulite on her legs and thighs. She mostly stays out of the limelight and is one of the few actresses known to have had successful plastic surgery to enhance her looks.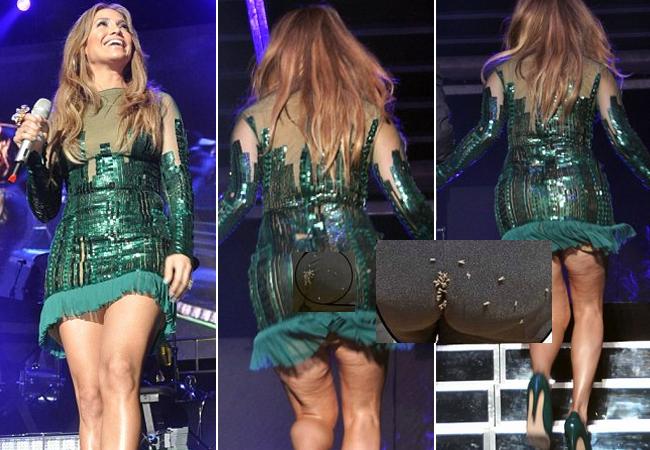 Jennifer Lopez
This Grammy winning singer is one of the most beautiful women in Hollywood. She is also one of the curviest women in Hollywood. Lopez is known for her dating fashion statements that push boundaries. However she also left many in shock when photos of her performing in a short green dress revealed cellulite on her thighs. She also claims that she has never undergone any kind of surgery to alter her looks.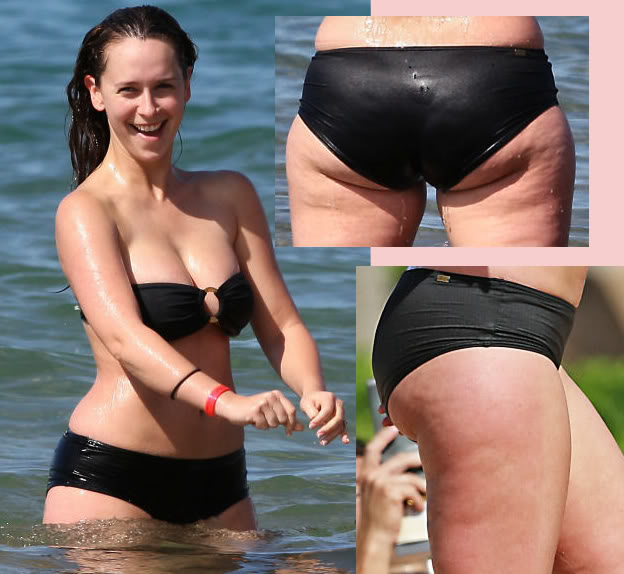 Jenifer Love Hewitt
The 'Ghost whisperer' actress also caused a stir when photos of her in a black bikini surfaced. The photos showed a curvier looking Jennifer with cellulite on her thighs and behind. She however responded by saying she was comfortable and that she loved her body. She was also once voted the sexiest woman in the world by readers of Maxim.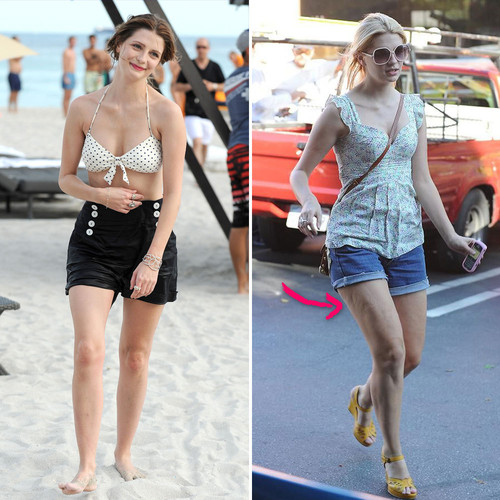 Mischa Barton
Photos of the former O.C actress surfaced showing her dimpled thighs. At the time, the 22 year old actor claimed that even though her body was not perfect, that the photos were doctored. She went on to post her own cellulite photos. In recent times she seems to have lost weight and fought it off and evidence of any kind of plastic surgery is hard to pin point. She therefore must have done it the hard way.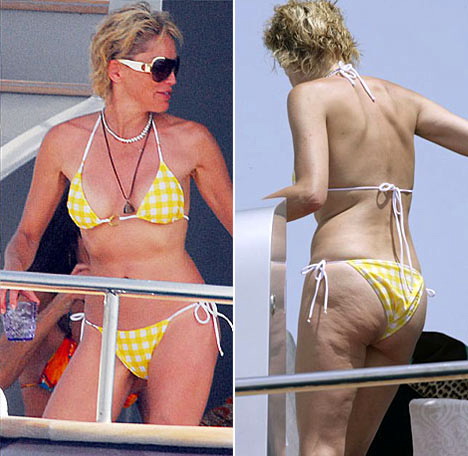 Sharon Stone
Photos of the legendary actress in a bikini also show cellulite on her thighs. She has hover been able to maintain healthy body weight over the years. She has never confirmed any of the plastic surgery rumors.